Gas or Electric Tank-Type Water Heaters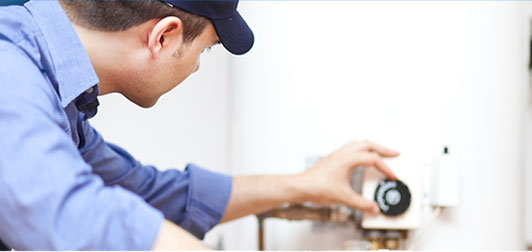 These types of water heaters are by far the most common in American households. If your house runs on gas, then a gas water heater is installed; if your house runs on electricity, an electric water heater is installed. Changing from a gas to an electric water heater or vice versa is highly expensive. Comparing gas water heaters to electric water heaters is somewhat impractical, but we can compare one gas to another gas, or one electric to another electric. To compare energy use, look at the energy-guide label posted on the outside of your water heater.
There should be a listing for energy factor (EF). Don't worry about combustion efficiency or heating efficiency. They give a fraction of information necessary to make a comparison between water heaters. Only the energy factor is important because it measures the water heater's overall efficiency and encompasses all the other aspects. If you are contemplating an electric water heater, make sure that the location in your house has a 220-volt outlet to stop the water heater into. Electric water heaters heat slower than gas water heaters, so electric water heaters often have larger tanks, i.e a larger ready supply of hot water. Larger tanks need more room in your house, so make sure they'll fit in the space provided. Check the "first hour rating" on the energy-guide label to see how many gallons your water heater can produce in one hour. Make sure that this amount will be enough for your household's needs. Also, make sure that the "temperature rise" is the 90 degrees or close to it.
Considering switching from electric to gas? Are gas lines to the water heater available and installable? Is there proper ventilation with the outside for the gas and air? Is there a second story to the house above the water heater? If any of these questions are answered in the affirmative, consider a direct vent water heater or a power vent water heater.
Direct Vent
Perfect for difficult angles or conversion from electric to gas, this venting system comes with a two-pronged pipe that takes in air and allows the exhaust to exit through an adjacent wall instead of the roof. This system draws its own air from the outside and requires no indoor air. This prevents backdrafting (gas fumes escaping directly to the area around the water heater) because the combustion chamber is air tight. One more benefit is the fact that heated air is not lost up the open flue. These water heaters are more expensive than regular vented water heaters, their only drawback.
Power Vent
Unlike the direct vent water heater, the power vent water heater draws its air from the inside not the outside. It also requires a small electrical source nearby to plug in the power vent system. It is the same to the direct vent system in all other ways.
Anode Accessibility
If you decide to go with a tank-type water heater, make sure there is access to the anode rod. The anode rod keep natural minerals and alkali from damaging the inside of the water heater lining. Look to see if there is a hexagonal shaped head on top of the water heater or ask if the water heater has a combination anode rod. If neither of these situations are true, then buy a different water heater. Easy access to the anode rods make it an easier water heater to maintain by a knowledgeable plumber. Also, ask if the water heater has a curved dip tube as opposed to a straight one. Curved dip tubes keep sediment from forming at the bottom of the water heater.
Insulation
Most tank-type water heaters have an insulation of R-6 or R-8. Look for water heaters with R-16 or close to it if they're available. The cost will be only slightly more, but the water heater's heating efficiency will be much higher.
Warranty
A tank-type water heater with one anode rod inside the tank will come with a five-year warranty while a water heater with two anode rods will come with a ten-year warranty. This is the only physical difference between the two types of warranties. It should be noted that most manufacturer's defects will show up within the usual five-year warranty period.